With spring right around the corner, the goal for today is to begin increasing the cycling distance again. I'm trying to go from fifteen miles to twenty-five miles today, but taken in smaller increments it should be doable. The ultimate goal is forty-five to fifty miles in a single day. At the speed I am pedaling, that means about a three-hour bike ride, not including stops in between.
But there will be stops in between, at least on the first ride of the year. It's not all about just getting to the chosen destination. It's about seeing the sights along the way. It's about stopping in some of the small towns. It's about talking with people and chronicling the trip. It's all about the journey, overall.
Increasing the daily distance is important, but so is increasing the ability to pull weight, because I will be pulling a bike trailer filled with camping gear. I have nearly maxed out the tension setting on this Exerpeutic bike, to help me prepare for that weighted trailer. However, I will continue to work on the weight factor, as I'm sure there will be hills in my future.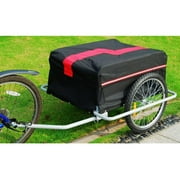 (Don't believe the "About" write-up on the Walmart site.
The max load capacity of the trailer is 176.4. Someone goofed in writing
the product description. The 'specification' section below the description has it right.)
With the right kind of trailer, a cyclist can comfortably pull 300 pounds along a relatively flat surface. At least that's what I've been told. I have no intention of pulling anywhere near that much. I have pulled approximately eighty pounds of live weight (feisty toddlers in a bike trailer) before and barely knew they were there, until they started hollering for snacks.
I have been very selective as to what gear will be taken. And, there's the weight of the trailer itself to be considered. Most bicycle trailers are very light, The trailer I hope to pull behind the Schwinn touring bike will be this one, an
Aosom Elite II
large capacity cargo trailer, The trailer weighs in at thirty-nine pounds. It actually has a weight capacity of 176.4 pounds, according to its specs.
I have an old Rhodes trailer, the one I carried those toddlers in, and I considered modifying and using it for the 2019 journey. It has a max weight capacity of 100 pounds, but I decided I wanted something a bit sturdier for the first adventure. I have also come up with a custom trailer design for a future trip, which will be able to pull a greater weight, but may itself only weigh about twenty pounds. I just have to find the time to build it, and then test it over the road.
It's time to get on with the pedaling and with reaching today's goal. I'll be riding the entire
fifteen
14 miles this morning, as usual and then adding
ten
12.1
or more
later this afternoon. I'm not concerned with increasing the speed, as I'll have the entire day to make the mileage goals when, Lord willing, the trip takes place.
Update:
That's 26.1 miles for today! Goal achieved for today. Let's see if I can do the same miles tomorrow and everyday from here on out until spring arrives.
Update February 1, 2019:
I decided to run the numbers to see how much progress if any I had made. After being sick for the first 2-2 1/2 weeks in November, blood sugar 500+, saline at 139 (bad), and barely enough energy to walk, muscle cramps, and severe fatigue, I opted to jump on the exercise bike for some serious pedaling. Along the way I added squats (I couldn't do 1 prior to this time.) and 3# dumb bells to add cardio and work on upper body while cycling. It was something to do. Below are the cycling time, distance, and minimum calories burned since November 18, 2018.
November 2018:
84.7 miles, 2,051.2 calories (minimum), 12 hours 1 minute 25 seconds
December 2018:
230 miles, 5,347.6 calories (minimum), 25 hours 24 minutes 41 seconds
January 2019 :
336.5 miles, 8,260.6 calories (minimum), 39 hours 30 minutes 4 seconds
Highest daily distance
is 27.1 miles, to date. Goal is fifty.
Squats:
25-30
Weights:
Now at 3# for first ten minutes of every ride.